Research capacity strengthening
7 October, 2021
2016-2021
Yaso Kunaratnam, Adrian Bucher and Dr Marta Tufet
Strong research and innovation capacities in low- and middle-income countries (LMICs) underpin socio-economic development. When countries tackle and collaborate on research for climate change, food security and the spread of epidemics, we all benefit.
Research capacity strengthening (RCS) is about developing people and institutions, fostering collaborations across disciplines and sectors, building soft and hard supporting infrastructure, and a strong enabling environment including research culture and demand where research and research actors can thrive.
Recent global work on COVID-19 diagnostics has shown that in a flatter and more equally threatened world, we can all benefit from globally and equitably distributed efforts to create research capacity.
This briefing paper summarises UK-funded contributions to this landscape between 2016 and 2021, along with initial policy recommendations to UK funders.
ADDITIONAL DATA ANNEX:
This spreadsheet contains basic details of the programmes included in the 2021 analysis by UKCDR examining UK ODA and Wellcome-funded research capacity strengthening in LMICs between 2016 and 2021 (including details on funders, thematic areas, benefitting countries, etc.).
---
IMPACT CASE STUDIES
This collection of seven case studies highlights UK funded research capacity strengthening programmes in low- and middle-income countries that have had significant impact and demonstrate the value of coherence between UK funders. The case studies included are:
DELTAS Developing Excellence in Leadership and
Training in Africa
GROW GCRF Growing Research Capacity
JGHT Joint Global Health Trials
LIF Leaders in Innovation Fellowships
Major Centres and Platforms: Medical Research
Council (MRC)-funded Africa Research Units and
Wellcome Africa and Asia programmes (AAPs)
ReMPro Africa Research Management Programme
in Africa
SGCI Science Granting Councils Initiative
---
INFOGRAPHIC: UK funding for research capacity strengthening in LMICs (UKCDR analysis 2016-2021)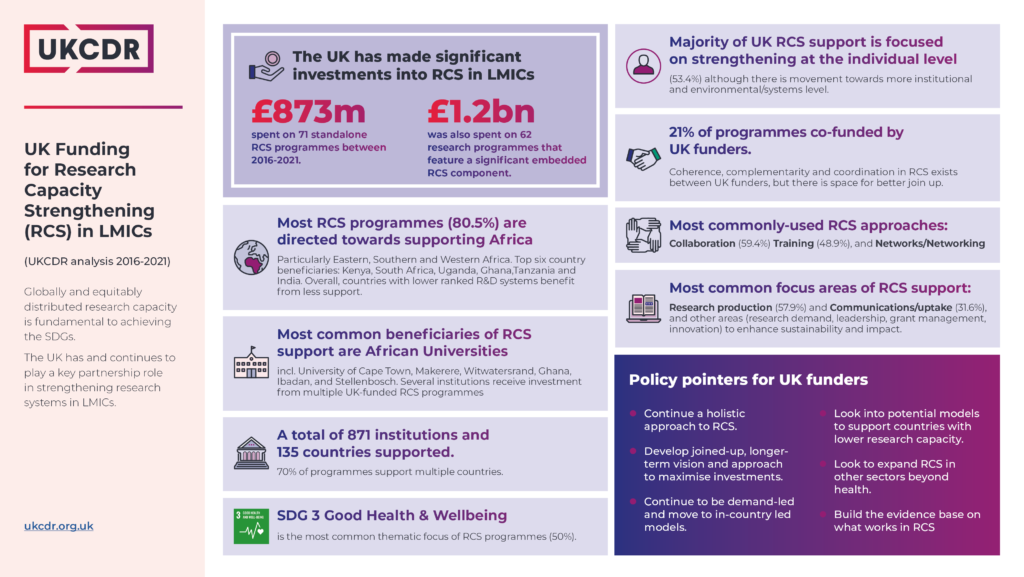 This content is published in partnership with