17 July, 2020
We are pleased to announce that UK Collaborative on Development Research (UKCDR) and the Global Research Collaboration for Infectious Disease Preparedness (GloPID-R) have developed a set of principles to align research funders towards a coordinated effort for supporting high-quality research for the most pressing global needs in epidemics and pandemics, especially in low resource settings.
The principles were launched on the 17th July 2020 in The LANCET 'Strengthening the global effort on COVID-19 research through joint principles for funding global research in epidemics and pandemics', by UKCDR Executive Director Dr Marta Tufet Bayona, Dr Alice Norton, Prof. Jeffrey Mphahlele, Prof. Yazdan Yazdanpanah & Prof. Peter Piot.
Chair of the Strategic Coherence for ODA Research (SCOR) Board and Director of London School of Hygiene & Tropical Medicine Prof. Peter Piot said
"Research is crucial to helping the world overcome the COVID-19 pandemic. These principles will guide funding for researchers to tackle COVID-19 now, as well as help for epidemics and pandemics in the future."
These principles illustrate our ethos for supporting research during epidemics and pandemics. Our collaborative approach to research encourages coordination, inclusive agenda setting and shared learning at all levels to better tackle the problem. As well as, capacity strengthening for future-proofing and appropriate duty of care during the entire research process.
Prof. Jeffrey Mphahlele, Vice President for Research at the South African Medical Research Council (SAMRC) and GloPID-R Vice Chair said:
"Research should be grounded in equity, transparency, and open data and resources. We would like these principles to represent a paradigm shift in how the research sector approaches global research funding in epidemics going forward."
The LANCET article also announced the newly formed programme COVID CIRCLE – COVID-19 Research Coordination and Learning. COVID CIRCLE will harness current UKCDR and GloPID-R activities, including continual mapping and analysis of global COVID-19 funding through our COVID Tracker. Building on this work, COVID CIRCLE will coordinate funding efforts, connect networks of researchers, and collate learnings to inform future epidemic and pandemic responses with a focus on lower-resource settings.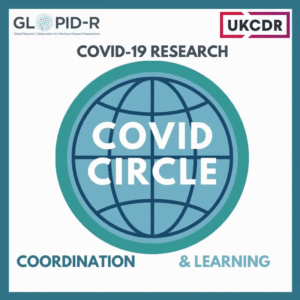 Yazdan Yazdanpanah, Chair of GloPID-R said:
"The new COVID CIRCLE programme is an excellent demonstration of global collaboration furthering the impact of research funding and advancing science. Improving coordination ensures that research funding is channelled to where the need is greatest and resources are lowest."
Marta Tufet, Executive Director for UKCDR said:
"We hope that these principles resonate with research funders, researchers and other actors in research and international development around the world. We would like to encourage research funders across the globe to join with us and commit to these principles."
If you are interested in finding out more – please email us at covid19@ukcdr.org.uk