21 May, 2021
Marie Staunton has been appointed as the new Chair for The Strategic Coherence of ODA-funded Research (SCOR) Board.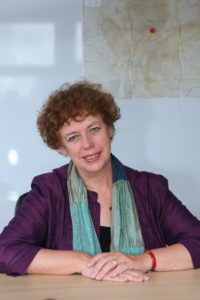 Marie Staunton CBE
Today, Marie Staunton CBE has been announced as the next Chair to lead the HMG Strategic Coherence of ODA-funded Research (SCOR) Board.
The SCOR Board brings an overall perspective on the funding, expertise and experience of all parts of HM Government. As well as helping ensure that coordination efforts are impactful and that the UK provides a strong voice of leadership to the international development research community. Ms Staunton will be replacing Professor Peter Piot, who has served as the first chair since November 2017.
In light of considerable uncertainty around the future of the economy, and severe cuts to UK aid spending and research funding more specifically, it is more important than ever that research funding efforts are joined up and not duplicated to direct limited resources to where they are needed most.
Marie Staunton has over 25 years of international development and human rights experience, with a broad career in the public, private and NGO sectors. Having qualified as a lawyer, she has worked on many human rights issues and held senior positions at Pearson and UNICEF UK. She has also served as Chief Executive Officer of the child-centred development agency, Plan UK and Plan Canada. Marie currently Chairs the Board at SOAS University and has been on the boards of a variety of local, national and international organisations including the Disasters Emergency Committee, the EU Fundamental Rights Agency and Amnesty International.
Marie Staunton, on her appointment, said:
"I am honoured to be taking over from Professor Piot who has built the organisations reputation for impact and value for money. For example, the small expert staff reacted rapidly to COVID by tracking research across the world so scientists can learn from each other. We will continue to focus on how UK research can have the maximum impact on lives and livelihoods in developing countries. As communities from Aberdeen to Zanzibar face increasing global challenges such as COVID and climate change effective international research has never been more needed."
Commenting on the appointment, SCOR Board member and Chief Scientific Advisor of the Foreign Commonwealth & Development Office, Charlotte Watts said:
"I am delighted to welcome Marie Staunton as Chair of the SCOR Board. It is a vital role and a critical time for international development research. It is more important than ever that research funding efforts are joined up and focused towards critical development challenges. I look forward to working alongside her to help build consensus, work towards joint action, and ensure the Board's effectiveness."