Marie Staunton and Charu Kaushic
A conversation with Marie Staunton, Chair of the Strategic Coherence for ODA Research (SCOR) Board, and Charu Kaushic, GloPID-R Chair, on UKCDR and GloPID-R's unique partnership to address research gaps during COVID-19 and discuss lessons learned for future approaches to funding epidemics and pandemics.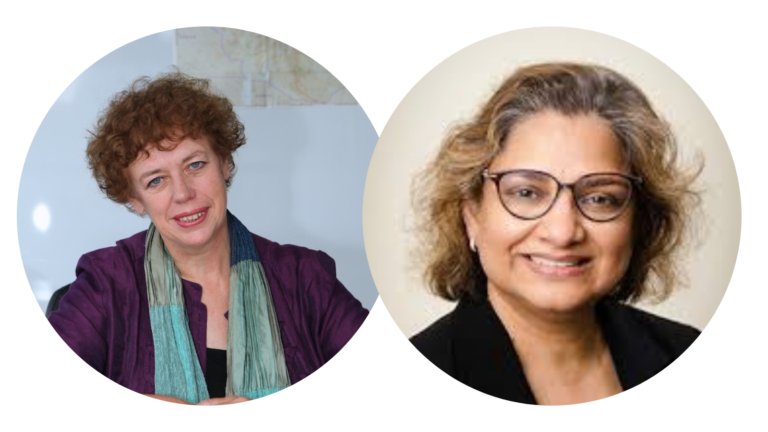 When the COVID-19 outbreak was declared, the global research community was forced to react rapidly and the danger of research duplication and multiple clinical trials addressing the same questions came to the fore.
Together, the UK Collaborative on Development Research (UKCDR) and the Global Research Collaboration for Infectious Disease Preparedness (GloPID-R) recognised this challenge and pulled together to create the COVID-19 Research Project Tracker to know what funding was going where and to get that information to those who needed to know.
The Tracker, now featuring more than 13,000 projects, formed part of our joint COVID CIRCLE initiative to facilitate global collaboration and maximise the impact of research, especially in low- and middle-income countries. Marie Staunton, Chair of the Strategic Coherence for ODA Research (SCOR) Board, and Charu Kaushic, GloPID-R Chair, reflect on this unique partnership and discuss lessons learned for future approaches to funding epidemics and pandemics.
Pulling together
Marie: During this pandemic, coordinating the urgent and global research response to meet the scale of research needs has been a real challenge. At UKCDR and GloPID-R we quickly understood if we pulled together to track research, we could achieve more.
Each of our organisations brought something different and complementary to the table.
Our team at UKCDR had the capacity and data skills to develop the Tracker. GloPID-R had the disciplinary expertise, reach and a network of global funders. This meant we were able to engage a wide range of countries and organisations to make sure this tool was put to good use.
Charu: Absolutely, this enabled us to provide a model of scaling a national response to a global one. We already knew that too little coordination on global implementation would lead to duplication.
We learnt that there is a real need for adaptability and clarity on who does what.
Marie:  That's right. Working together made us stronger. We were able to leverage our partnerships with funders and researchers in the field and to build a community around COVID CIRCLE and the Tracker and that rapidly improved the response to the crisis.
Gaps, opportunities and priority setting
Gaps and opportunities 
Marie: Two other challenges that were clear to us was the urgent need to identify the gaps in research funding and setting global and regional priorities.
Charu: I agree entirely. Early in this pandemic, most organisations were funding research concurrently. The need for coordination and strategic planning to avoid high investment in some research areas and gaps elsewhere was clear. The COVID-19 Research Roadmap that resulted from the collaborative R&D meeting GloPID-R organised with WHO was a vital step in addressing this challenge.
The Tracker has allowed us to identify gaps early, and reliably direct research to where it is most needed. Excellent examples of urgent gaps identified by the Tracker are both the need for research funding in LMICs and to better understand Long Covid.
It was thanks to being alerted by the Tracker that GloPID-R and ISARIC held the Long Covid Joint Research Forum to identify research priorities on the long-term impact of COVID-19.
Priority setting
Marie: By coding our Tracker against the priorities identified in the Research Roadmap, we've been able to inform decision making, including the UN Research Roadmap for the COVID-19 Recovery.
But it was clear to us that the global research agenda was still missing the priorities of LMICs.
Over a year on, an inclusive global research response remains limited.
Evidence must be tailored for specific settings, particularly in low-resource countries, and the benefits from the research must be equitable and widely accessible. However, most COVID-19 research globally focuses on the issues of greatest importance in high-income countries.
Looking to the future
Charu:  Now, global funders and researchers need to take stock on what we have all learnt during COVID.
As you said earlier, Marie, LMICs must remain a top priority. Harmonized, fast-moving funding is what we need going forward, and coordinating research funding is our real raison d'être at GloPID-R.
Pathogens know no borders, and our cooperation must transcend borders as well.
Marie: Practically to achieve this, we're now beginning to look to the long term, and how to adapt the Tracker as a tool for preparedness in our second phase of COVID CIRCLE. The aim will be to track investment in research of diseases of interest globally and to develop a baseline of knowledge that can be used as a major decision-making tool.
WHO reports nearly 5 million COVID related deaths worldwide. Funders must have a coordinated research effort ready now for the next epidemic and pandemic. We must not waste precious time and resources. By collaborating ahead of time, we can build capacity and set up systems across the globe, especially in LMICs, to allow us to respond faster and more effectively.
---
Image credit: JR Korpa via Unsplash