Chantel Jones
What is COVID CIRCLE?
UKCDR and GloPID-R's COVID-19 Research Coordination and Learning initiative (COVID CIRCLE) is in its final delivery stages. As the COVID CIRCLE team and wider research community pivot towards future outbreak preparedness, let's take a closer look at everything COVID CIRCLE has achieved.
COVID CIRCLE was launched in April 2020 in response to the evolving COVID-19 pandemic, bringing together GloPID-R's rich global health expertise with UKCDR's expertise in mapping and analysis. From one humble Excel spreadsheet, the basis of our now world-class COVID-19 Funded Research Tracker, a whole programme of activities, comprised of four elements, has grown.
COVID CIRCLE has mapped and analysed global COVID-19 funding, coordinated funding efforts, connected networks of researchers, and collated learnings to inform future epidemic and pandemic responses, all with a focus on lower-resource settings. Across our activities, COVID CIRCLE has worked closely with research funders to ensure their programmes of research address critical priorities to tackle COVID-19.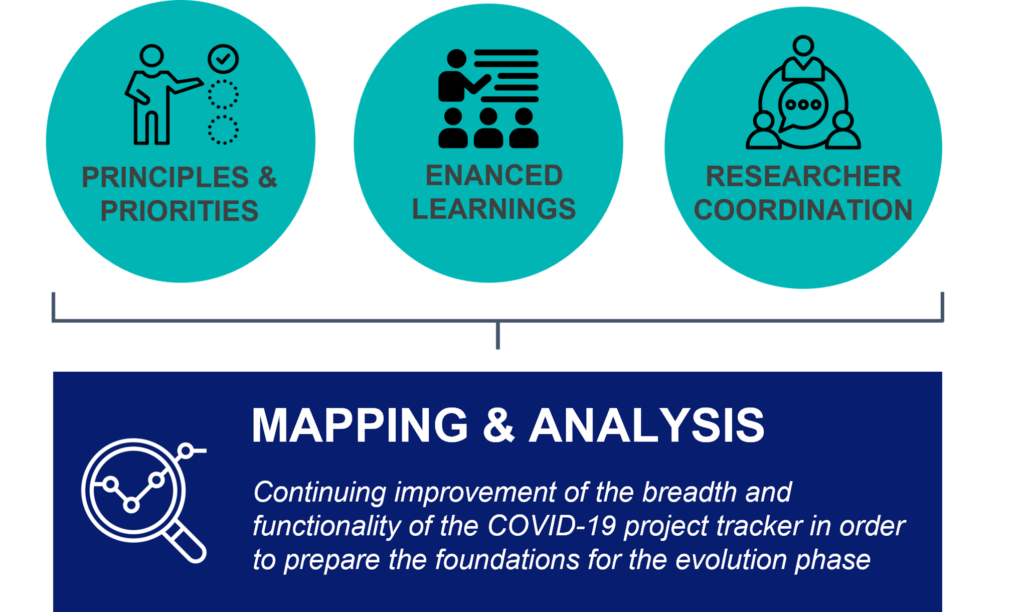 Principles and priorities
Seven principles for a stronger research response to epidemics and pandemics (the Funder Principles)
In July 2020, UKCDR and GloPID-R launched our Funder Principles in The Lancet:
The Funder Principles encourage high-quality research for the most pressing global needs in epidemics and pandemics, particularly in low-resource settings, and have helped align funders to a coordinated effort in responding to the pandemic. Many research funders have committed to the Funder Principles, including: the Foreign, Commonwealth and Development Office (FCDO), the Department of Health and Social Care (DHSC), the Sexual Violence Research Initiative (SVRI), the Department for Business, Energy and Industrial Strategy (BEIS, as it was prior to February 2023*), UK Research and Innovation (UKRI) and the Wellcome Trust.
Mapping and analysis
The COVID-19 Research Project Tracker (the Tracker)
The Tracker is a live database of funded research projects relating to COVID-19, across a range of disciplines and geographies. At present, the Tracker captures over 20,000 research projects. These projects are taking place across nearly 160 countries and represent at least $7.5 billion USD in investment. The Tracker contains data from more than 260 funders from 60 countries and has been updated on a fortnightly basis to provide a comprehensive and up-to-date overview of COVID-19 research funding around the world.
To ensure the Tracker's success in supporting funders' and researchers' understandings of how well the global research response aligns with internationally agreed upon research priorities, we mapped projects in the Tracker against the research priorities outlined in the World Health Organization's Coordinated Global Research Roadmap: 2019 Novel Coronavirus, before incorporating those from the United Nations' Research Roadmap for the COVID-19 Recovery. We incorporated the UN Roadmap a few months into the project, as funders started to pivot their research response towards a post-pandemic world.
Curious about how we created and use the Tracker? Find out more in this blog.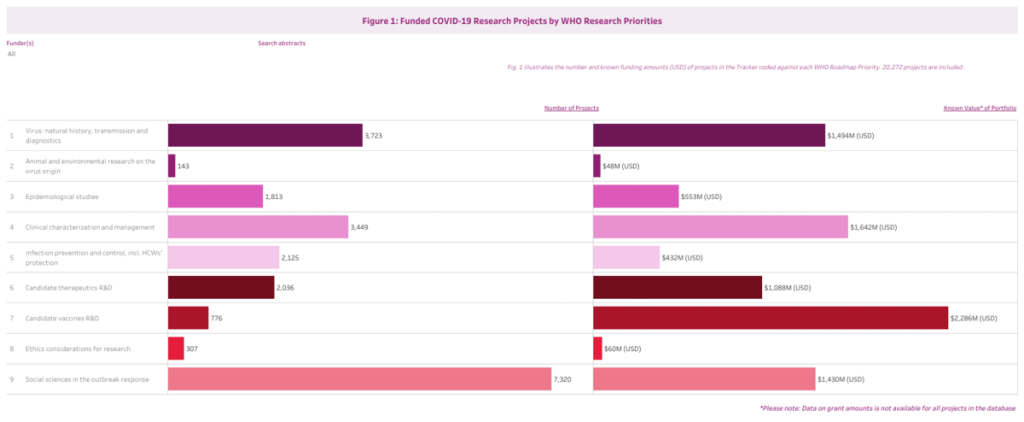 Since September 2020, COVID CIRCLE has published quarterly LMRs that summarise the Tracker's extensive data. Making use of descriptive and thematic analyses, the LMR is an in-depth review of COVID-19 research funding trends that provides an open, accessible, and frequently updated resource summarising characteristics of the global COVID-19 funded research portfolio. It does so by providing a digestible overview of the research landscape and identifying trends in the research response to COVID-19. The nine iterations of the LMR have so far been viewed around 4,800 times and downloaded nearly 400 times, and the tenth iteration will be published in the next few weeks.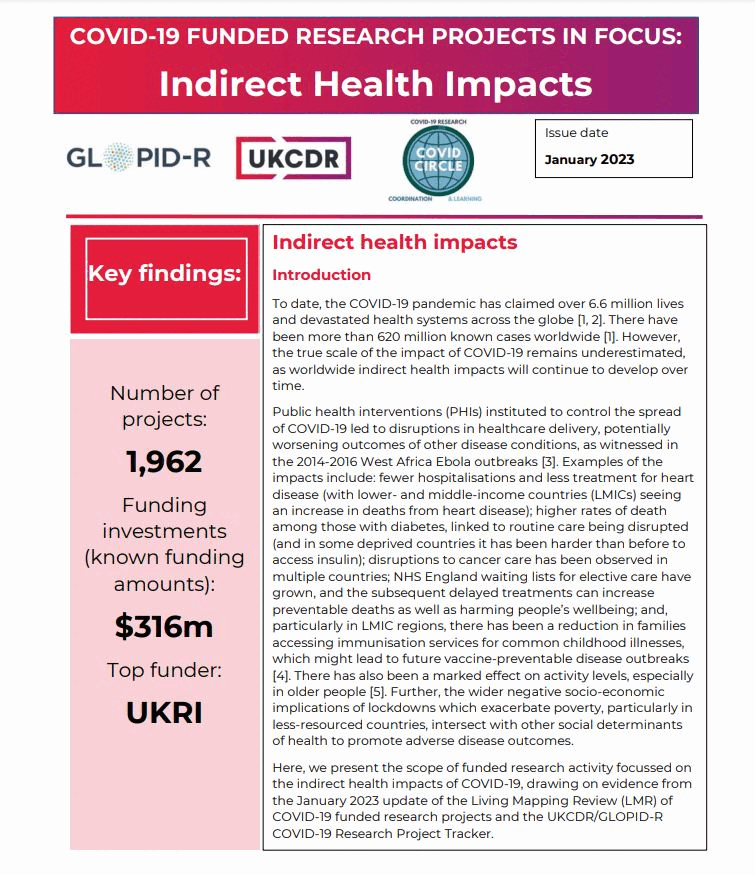 Tracker Highlights
To accompany each iteration of the LMR, COVID CIRCLE has published a suite of 'tracker highlights', a series of profiles on pressing COVID-19 research-related issues These cover 'indirect health impacts', 'research capacity strengthening', 'long COVID' and 'new variants' (added in 2022). Mapping and summarising research on these topics has allowed COVID CIRCLE to identify research gaps and opportunities, supporting improved distribution of funding for future research.
Bespoke analyses
Throughout the project's lifetime, COVID CIRCLE has also produced more than 15 bespoke analyses and numerous presentations for specific organisations and research funders. These include (but are not limited to) the Global Challenges Research Fund (GCRF) Board, the G20 Health Working Group, Wellcome, and FCDO.
Researcher coordination
The COVID-19 pandemic has underlined that strong collaboration among researchers is vital for strengthening epidemic and pandemic preparedness. That's why UKCDR and GloPID-R established a COVID CIRCLE Researcher Community (CCRC) in 2020 to help researchers supported by COVID CIRCLE funders to share resources, identify research synergies, and learn about opportunities for interdisciplinary and international collaboration. This community consists of over 120 researchers.
Since 2020, COVID CIRCLE has provided CCRC members with resources, guidance, and news via a fortnightly e-newsletter, a private community message board, and a public website. COVID CIRCLE has also supported CCRC members to showcase their work and build connections through a programme of nine webinars, taking place quarterly, including a large-scale public conference in December 2022.
The conference, 'Beyond the pandemic: The impact of the COVID-19 research response in low- and middle-income countries (LMICs)', brought together COVID-19 researchers working across a plethora of disciplines and geographies, UK-based COVID-19 research funders, and other stakeholders in global health and research for development. The conference featured live and poster presentations from CCRC members, showcasing their wide array of LMIC-focused research projects. The conference also included an interactive workshop with research funders, in which attendees looked 'beyond the pandemic' by asking how research funding can be better prepared for future emergencies.
Enhanced learning
In November 2021, COVID CIRCLE published a milestone report: 'Funding and undertaking research during the first year of the COVID-19 pandemic: COVID CIRCLE lessons for funders'.
A highly anticipated update was published in January 2023 to capture learnings from the first two years of the pandemic. This updated report presents:
Information on research funding activities, including analysis from our Tracker;
Lessons learnt on enablers and challenges to fulfilling the Funder Principles; and
Recommendations for research funders to address the challenges of funding and conducting research during epidemics and pandemics, particularly in LMICs.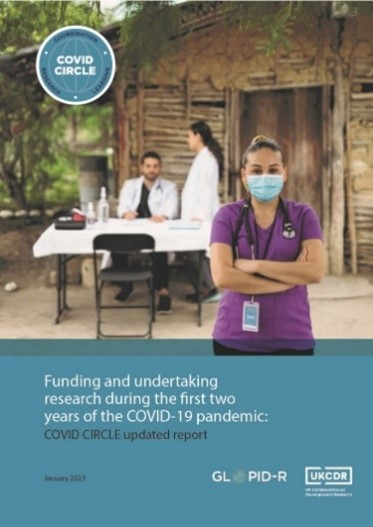 In celebration of our updated report, UKCDR and GloPID-R also hosted a virtual dialogue on 19 January 2023: 'Utilising the lessons learnt from the COVID-19 pandemic, what are the future directions for epidemic- and pandemic-related research?'. Attendees garnered insights into recommendations from the new report and research prioritisation outputs from the GloPID-R LMIC working group. This dialogue also included a forward-looking panel discussion with global research funders about future directions for epidemic and pandemic research funding, with a particular focus on LMICs.
Our two-year report: key lessons learnt
The report identified key lessons to support future funding for emergency preparedness and response. Some examples include:
Prioritisation: While the prompt prioritisation of research focus areas was recognised as essential for rapidly producing evidence to control COVID-19 infections, the lack of regionally developed priorities hindered funders' ability to address needs at a more local level;
Best research practice: Open science and data sharing is essential for ensuring trustworthy and equitable approaches during epidemics and pandemics that have LMIC buy-in and support, and the need to establish greater support for this has been recognised;
Innovative funding mechanisms: The European and Developing Countries Clinical Trial Partnership (EDCTP) rapid emergency funding mechanism, which mobilised €1275m for research implemented in 25 Sub-Saharan African countries, was a positive example of innovative funding during the pandemic;
Funder relationships and partnerships: Relationships built during inter-epidemic periods were more easily activated during emergencies than less well-established relationships. However, greater global funder collaboration is needed, including joint funding, to ensure that high-quality multi-country studies can be funded to address research needs during pandemics.
Read more important lessons learned during the COVID-19 pandemic in the report, as well as the 22 recommendations for research funders when responding to epidemics and pandemics, particularly in LMICs.
Next steps
The GloPID-R and UKCDR teams are excited to announce COVID CIRCLE's transition to the new Pandemic PACT (Preparedness: Analytical Capacity and funding Tracking) Programme, which extends the scope of COVID CIRCLE to cover a wide range of diseases as well as broader epidemic and pandemic research preparedness activities. Pandemic PACT will have the research and analytical capability to collate and analyse global funding data and identify research needs on an ongoing basis to inform policy and support decision-making for preparedness and response. We anticipate that this new tool, capable of pivoting to track novel diseases, will arrive in 2023.
In the meantime, we'll continue to update the COVID CIRCLE Tracker, capturing projects that were not included at the time of the latest LMR update. This data will continue to be publicly available on the UKCDR website and the team are happy to respond to any enquiries.
Thank you
We would like to thank everyone who has been a part of COVID CIRCLE, including UKCDR and GloPID-R's COVID CIRCLE team, our CCRC members, and all stakeholders who have engaged with our programme over the years. A special thanks to our funders: DHSC, UKRI and Wellcome Trust.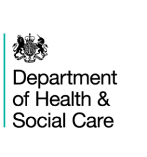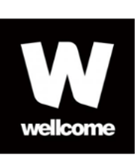 ---
Photo credit: Ivan Lopatin via Unspash