Creating disease resistant crops to help feed millions
Pearl millet is a staple crop for populations throughout Africa and South Asia. Every year it suffers extensive crop losses due to the disease downy mildew. This leads to widespread food insecurity and financial instability, especially for the poorest farmers. Researchers at the Universities of Bangor and Aberystwyth have been part of an international effort to successfully breed a new disease-resistant variety of pearl millet. It is now grown extensively in India – enabling more resilient farming systems, creating jobs for local women and increasing food security for an estimated 3 million people.
Pearl millet is a staple crop grown in some of the harshest environments across Africa and South Asia. India alone grows 40% of the world's pearl millet, 70% of which is hybrid plants – such as the popular hybrid variety "HHB67" – which are made up of genetically identical plants. This makes them particularly vulnerable to plant diseases, because if one plant is susceptible, all of them are. Downy mildew is one such plant disease, caused by a fungus-like organism which kills the plants. Epidemics of downy mildew are rife throughout the Indian pearl millet crops and can result in up to 30% of the crop, and £7 million worth of HHB67 plants, being lost in a year. This is especially devastating to the poorest farmers, threatening their livelihoods through widespread hunger and major financial losses.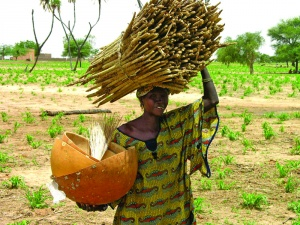 Researchers from the Universities of Bangor and Aberystwyth, in collaboration with the John Innes Centre developed technology that was used to breed a downy mildew resistant variety of pearl millet at the International Crops Research Institute for the Semi-Arid Tropics, in India. The variety provides significant stability to communities reliant on pearl millet farming.
The new disease-resistant variety, named HHB67-Improved, was proposed for release by Haryana Agricultural University and approved for use in India in 2005. Seed was initially provided free of charge, and crops became widespread in drier regions of India such as Rajasthan and Haryana. By 2008, large scale affordable seed production had begun, with HHB67-Improved completely replacing the old version of the hybrid all across North-Western India.Funded as part of the Department for International Development's Plant Sciences Research Programme, the UK researchers developed a new technique to create the disease-resistant variety. Using a newly created genetic map of pearl millet, the researchers linked a resistance gene against downy mildew into the pearl millet's DNA. While conventional methods take around nine years to produce the desired variety, this novel technique took just three years.
HHB67-Improved is not only resistant to downy mildew, preventing widespread disease losses, but trials also showed 10% higher crop yields. Cultivation of HHB67-Improved in North-Western India was estimated to have generated an extra £6.5 million in 2011 alone, providing financial stability and food security for an estimated 3 million people in the region.
As well as securing a reliable food supply, HHB67-Improved has provided a range of other advantages for farmers. The new variety matures earlier, meaning it releases the land it's grown on more quickly, enabling farmers to cultivate a second crop. This transforms previously single-crop lands into two-season multicrop fields, facilitating a far more robust farming system that provides far better protection to the livelihoods of pearl millet farmers.
HHB67-Improved seed production has also had big impacts beyond farming – namely on gender equality within the seed industry. Thanks to high demand for the crop, there has been an increase in net income and employment opportunities for the Indian seed production industry. This rise in available work has led to a significant increase in employment opportunities for women who now make up 45% of workers in the industry.
Read more about this research in the original impact case study submitted to the Research Excellence Framework 2014.