Improving water quality and healthcare to reduce diarrhoeal disease in Malawi
Diarrhoeal disease is a serious threat to public health in developing counties. Susceptibility is heightened by poor sanitation, and insufficient health infrastructure and limited healthcare access can make it life-threatening.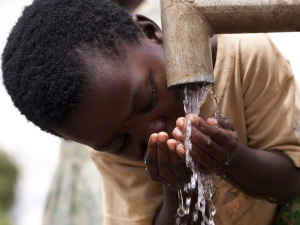 Researchers from the University of Strathclyde have been working to improve diarrhoeal disease control and prevention in Malawi by identifying major sources of infection and supporting improvements to community health activity. Their initiatives have resulted in a 30% reduction in diarrhoeal disease cases in target areas, and now reach 110,000 at-risk individuals in 150 communities in the southern region of the country.
Diarrhoea is common in many developing countries and the second leading cause of death in young children, despite being an easily preventable and treatable illness. In Malawi, for example, diarrhoeal diseases are estimated to affect 17% of the population, rising up to around 22% in children under five years old. Tackling the issue of diarrhoeal disease in vulnerable countries like Malawi could help prevent needless deaths and work towards the fourth Millennium Development Goal of reducing global child mortality by two thirds.
In an effort to decrease the burden of diarrhoea in Malawi, researchers from the University of Strathclyde – with support from a range of funders, including the Department for International Development, the Scottish Government and the Wellcome Trust – have been investigating approaches to improve disease control and prevention. By studying practices in homes in the Chikwawa District, they successfully identified faecal-oral transmission as the major source of diarrhoea. Despite 84% of homes indicating they routinely washed their hands, 75% of those tested had traces of faecal bacteria on their hands.
Drinking and washing water contaminated with disease-causing bacteria was found to be a major route of transmission, with these bacteria present in 76% of household water storage containers. The studies suggested that in order to combat infection successfully, changes were needed in not just water quality, sanitation, and household hygiene, but also access to healthcare education and community health activity.
In 2006, Strathclyde researchers established the Scotland Chikwawa Health Initiative (SCHI) in an effort to deliver concrete health benefits to at-risk communities. Through work with the Ministry of Health, Chikwawa District Health Office and the University of Malawi, SCHI implemented a programme of activities aimed at preventing diarrhoeal disease in four target communities. This included supporting the construction of latrines, improving the accessibility and quality of health facilities, and helping to supply clean drinking water at household level.
Building and upgrading wells played a big role in this, as did distributing 8,748 bottles of chlorine based water treatment each year to treat 8.7 million litres of water. SCHI also trained and equipped new health staff, such as Health Surveillance Assistants and voluntary community members to form village committees on health, water source management and health education. As a result, communities were more knowledgeable about the causes, symptoms and prevention of diarrhoea, while also having better access to health care resources when needed.
The Strathclyde research has also had a big impact on a policy level. Its recommendations have served as the basis for Malawi's draft national diarrhoeal disease control policy, and informed its National Health Research Agenda and capacity building initiatives.Within the first 2 years, the SCHI programmes reached 5,700 people in Malawi, reducing diarrhoeal disease by 30%. SCHI was so successful in the original four communities that it has now expanded to cover 150 communities, providing life-saving support to a total of 110,000 at-risk individuals.
Read more about this research in the original impact case study submitted to the Research Excellence Framework 2014.