Chantel Jones

Click here to expand the infographic.
COVID CIRCLE – COVID-19 Research Coordination and Learning – is a joint initiative between the UK Collaborative on Development Research (UKCDR) and the Global Research Collaboration for Infectious Disease Preparedness (GloPID-R). Learn step-by-step how we work with data to make the most comprehensive database on COVID-19 research funding.
What is the COVID Tracker?
COVID CIRCLE helps direct the COVID-19 research response, with a focus on lower-resource settings. One way we do this is through the COVID-19 Research Project Tracker, a regularly updated and publicly available live database of funded research projects across the world related to the COVID-19 pandemic. The Tracker supports funders and researchers to deliver a more effective and coherent global research response by contributing to a fuller view of the global research funding landscape. This includes identifying gaps and opportunities for research and classifying research projects against international frameworks.
This blog will explain in more detail how we use data from around the world to help public health stakeholders deliver a more effective and coherent pandemic response.
What projects are included in the Tracker?
All funded research projects that focus on COVID-19 are eligible to be included in the Tracker. These include projects from regional funding organisations, national research funders and non-profit and philanthropic organisations. It also includes research projects that have come out of pre-existing grants repurposed for the pandemic response.
How do we acquire the data?
COVID CIRCLE either acquires data directly from research funders, who complete a template (available here), or from their online databases (step 1). In the second instance, we use key search terms like "COVID" and "sars-cov-2" to find relevant projects. We use a range of priority fields for data collection, which can be seen in the template, and record key information about the research (such as institutions involved, location(s), dates of the research, funding amount etc.).  
The project data is then entered into a master MS Excel spreadsheet which the team regularly checks for duplicate entries (step 2).
How do we code the data?
It's important to code project abstracts against all the research priorities from the WHO's Coordinated Global Research Roadmap: 2019 Novel Coronavirus (2020) (step 3) and the UN's Research Roadmap for the COVID-19 Recovery (2020) (step 4). This helps us understand how well the global research response aligns with internationally agreed upon research priorities.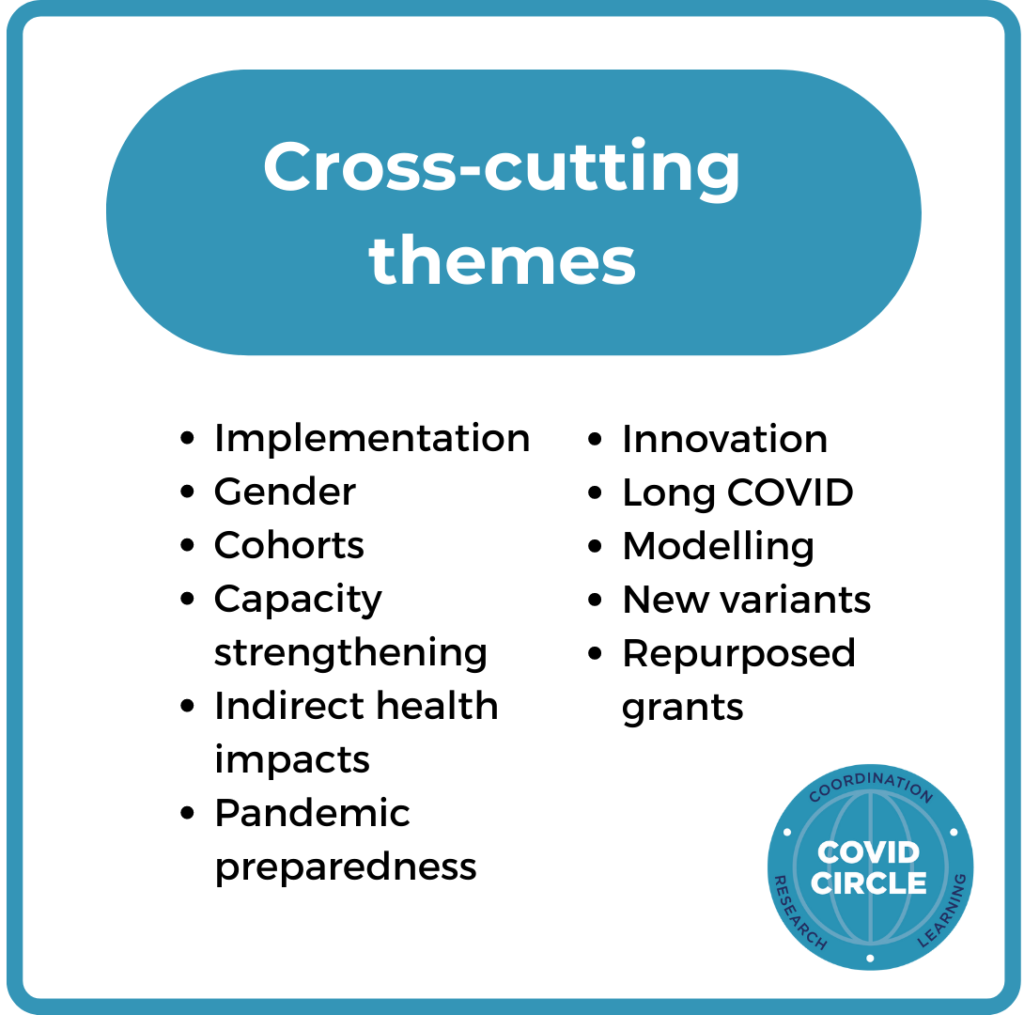 We also code project abstracts against the cross-cutting themes and research topics below (step 5). These themes have emerged iteratively as research has taken place. Identifying areas of interest beyond the WHO and UN research priorities (steps 3 and 4) allows us to produce additional analyses on trends in COVID-19 research funding (step 9).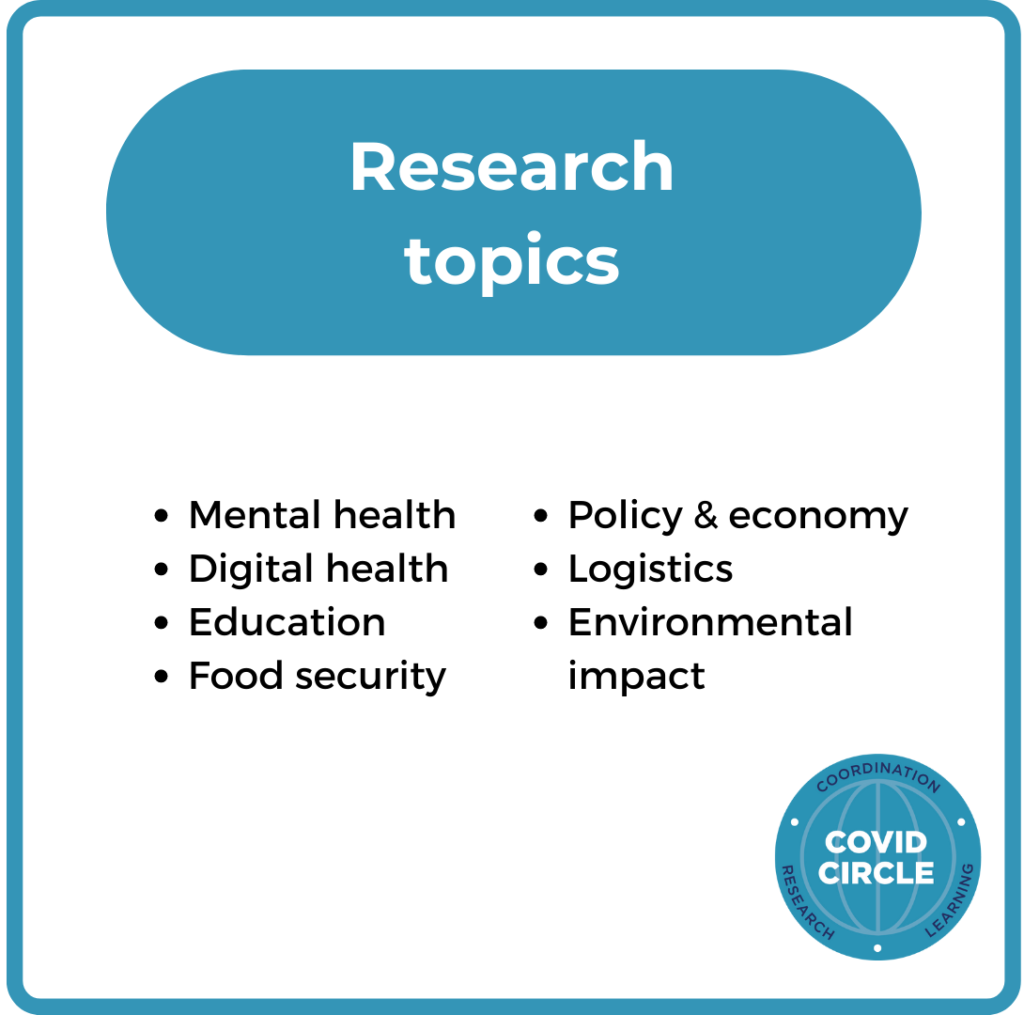 We carry out additional coding for vaccine-related research projects (step 6). This means recording the specific area of vaccine research a project relates to (for example, clinical trials, vaccine logistics, or adverse effects).
We record the project country/countries and the study populations involved against a hierarchical structure, i.e. moving down from the overarching population to the sub-populations where relevant (e.g. type of human sub-group, if COVID infection status is specified) (step 7).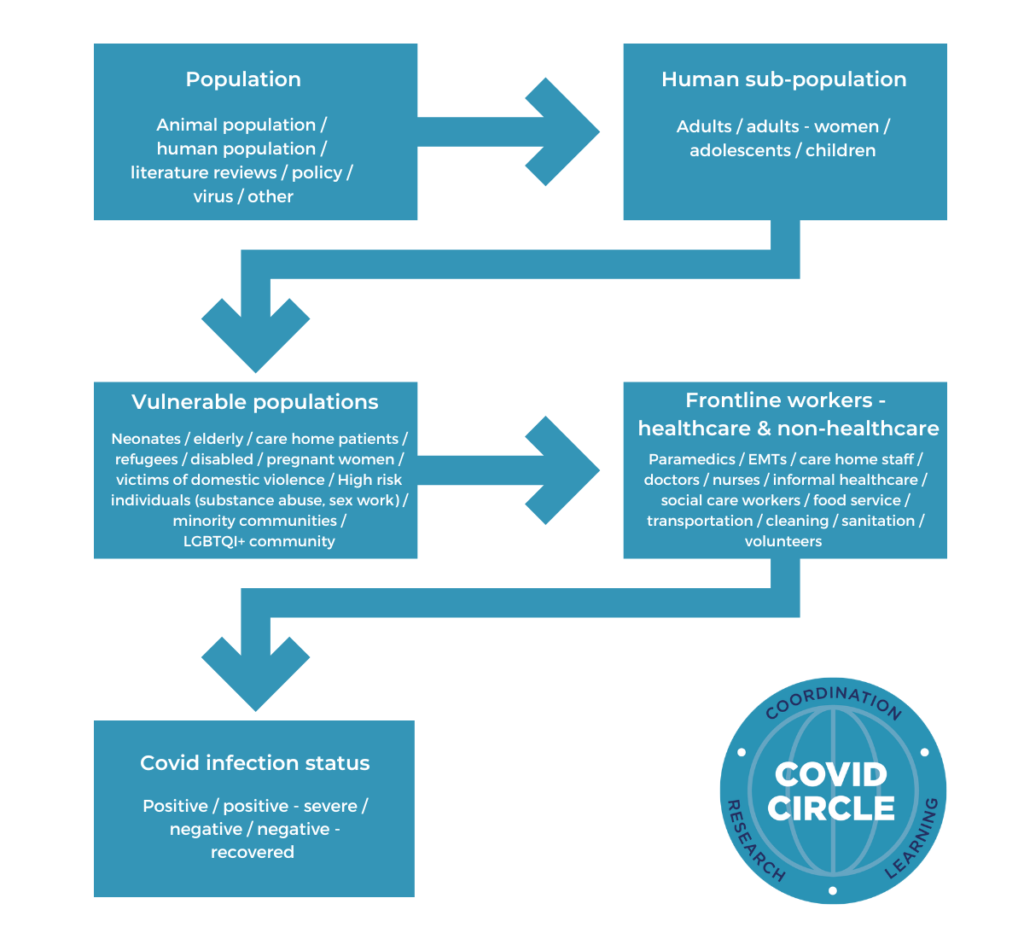 When a team member has completed the steps outlined above, it's crucial that a second reviewer validates their coding (step 8). This ensures that, as far as possible, the Tracker accurately captures the COVID-19 research response and its relationship to the WHO and UN research priorities. Having two reviewers improves the reliability and validity of the coding, minimises errors, and reduces potential coding bias.
Although there are limitations to the data, including incompleteness of data (e.g., missing funding amounts) and/or vague or absent abstracts (meaning that some coding may fail to capture all aspects of the research that are relevant to the WHO and UN research priorities), the data validation process ensures that the assigned codes are as accurate as possible given the information provided for each study.
What do we do with the data?
The coding and validation processes allow us to update our COVID CIRCLE outputs. These include:
COVID-19 Research Project Tracker (updated fortnightly)
Living Mapping Review (LMR) and related Tracker Highlights (updated quarterly)
These outputs help stakeholders keep track of changes in the COVID-19 research landscape, including what kind of research is happening and where, and highlight global research gaps.
How do stakeholders use the data?
The Tracker supports informed decision-making by providing stakeholders with answers to critical questions: what research is being funded and where? Who's involved in the research? What research priorities are being addressed, and which aren't?
At least 90 organisations have used the Tracker, including funders, governmental bodies, research institutions, data sharing platforms, and news portals. For example, tracker data has been used by UKRI to provide a contextual briefing for funding panels; by Public Health England to validate identified funding gaps and inform future work; and by Dalberg (in partnership with Wellcome) to review existing funding research and inform a long COVID research agenda.
The Tracker has also been recognised in the R&D Preparedness Ecosystem: Preparedness for Health Emergencies Report to the Global Preparedness Monitoring Board (2020) and in the Covid-19 Research And Innovation Achievements Report (2021).
What's next for the Tracker?
Gaining a comprehensive picture of the global research effort to COVID-19 has been challenging. The main limitations are the lack of commercial research data available, missing data from some geographies and disciplines, and an incomplete picture of the full scope of repurposed research grants. However, we believe that our Tracker remains the most comprehensive database of COVID-19 research available.
We'll keep updating the Tracker and coding against the WHO and UN research roadmaps for the duration of the COVID CIRCLE initiative. Looking to the long term, UKCDR & GloPID-R hope to develop another tool looking at diseases of epidemic and pandemic potential, including so-called 'Disease X'. We'll also continue to advise other organisations in the development of similar trackers, such as influenza vaccine trackers and those tracking access to COVID-19 tools.
We ask that even more research funders (especially from LMICs) submit their data to COVID CIRCLE. This helps make the tracker and related analyses more accurate, improves funding coordination and focuses limited resources. 
Related content

UKCDR & GloPID-R's COVID-19 Research Project Tracker

Infographic: Our Tracker Turns Two

UKCDR & GloPID-R's Living Mapping Review (LMR)
COVID CIRCLE official website
---
Photo credit: Bia W.A via Unsplash